Case study: Bukchon Traditional Village
Before, we didn't know when the trash bins in Bukchon became full. Now, we know in real-time the fill-level of each bin thanks to Ecube Labs' solution. Since we're able to quickly take action before any problem occurs, there are no longer any issues with garbage overflow.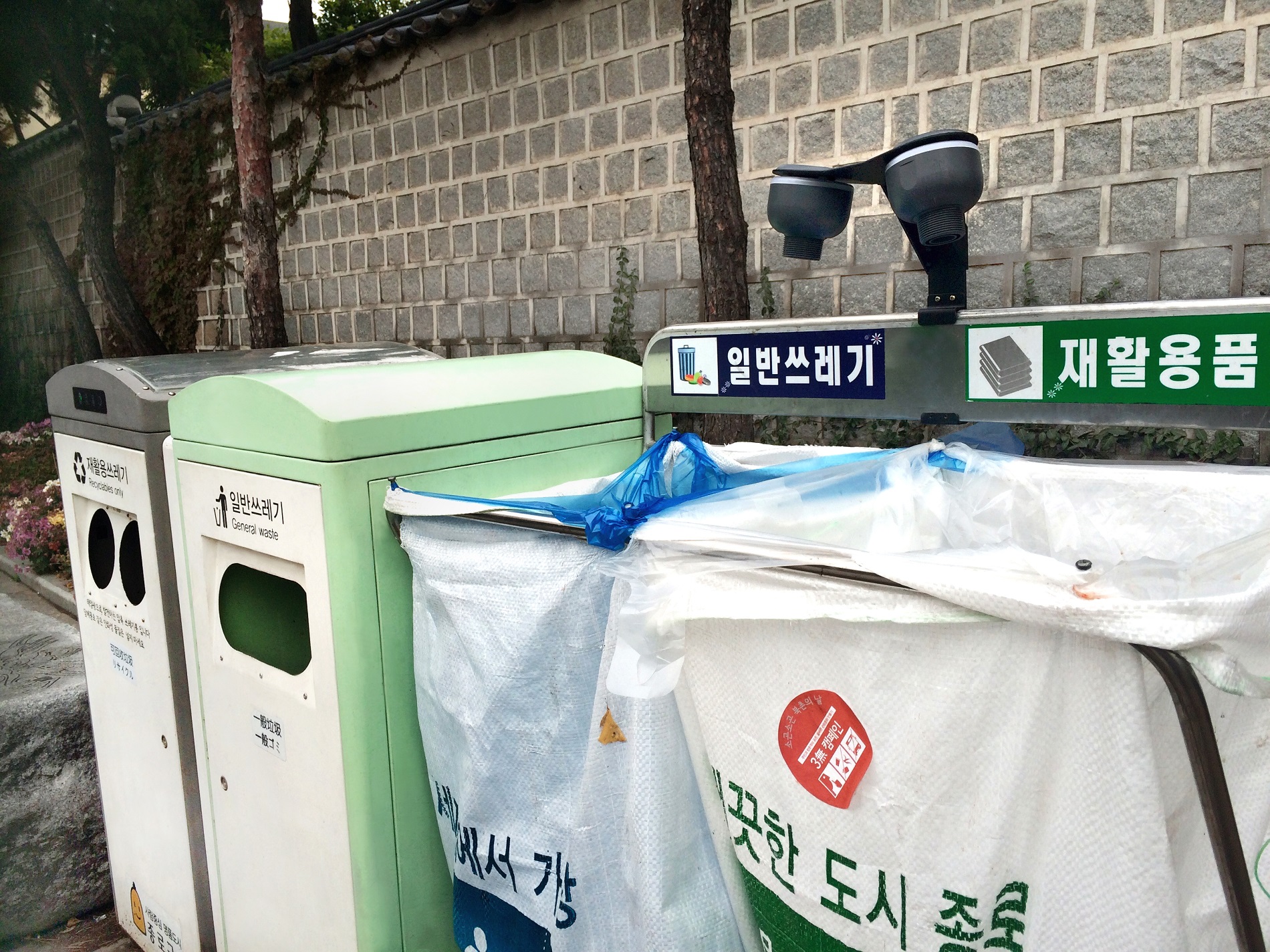 High waste generation in Bukchon area.
Various sizes and shapes of garbage bins.
Clean CAP sensors installed to measure fill-levels.
Customized mounting brackets according to different bin shapes.
Smart data-driven fill-level information that enables prompt responses.
Elimination of garbage overflow.
Installation of the Clean CAPs on diverse types of bins.
Bukchon Traditional Village is a popular tourist attraction for its rich history in Seoul. It is home to hundreds of traditional houses dating back to the early 1900s, serving as cultural centers, restaurants and tea houses. In the midst, there are also modern cafes that draw both the young and old generations along with continued increase of tourists to the area. But at the heart of the community, Bukchon still functions as a residential area. The influx of tourists, both domestic and international have directly led to increase in resident complaints. The main issue stems from the amount of waste generation creating overflow. The residents' discontent has continued to escalate without much resolution.
In order to solve this problem, City of Seoul has engaged Ecube Labs to install Clean CAP fill-level sensors in the area. Because the trash fill speed varies depending on the location and the type of waste, installing fill-level sensors in only trouble spots would partly remedy the waste problem. Taking a holistic approach, Seoul requested the Clean CAPs to be installed on every trash bin. This would enable the staff members to make smart data-driven decisions while managing individual bins for collections.
The Clean CAP is an attachable ultrasonic level sensor that measures the amount of trash in real-time. It can be attached to existing receptacles/containers to detect any type of trash. For instance in Bukchon, the Clean CAPs were installed on 3 different types of garbage bins. "Although we, at first, were worried whether the level sensors would be able to be attached to all of the bins because of their various shapes, installing them was much easier than expected," said an official in Seoul Metropolitan Government's Waste Division.
The installation introduced a whole new level of waste collection efficiency. The collection staff can go out to the field knowing which locations to visit ahead of time. As a result, number of unnecessary collection trips has reduced. This is possible through the utilization of the Clean City Networks (CCN) that provides an optimized collection route. The collection cost went down by 43%.
The cost reduction benefit aside, the deployment of the waste bin sensors consequently led to immediate positive feedback from local residents' regarding their satisfaction level because of the dramatic decrease in the amount of garbage on the streets. As a major tourist attraction, they proudly showcase their heritage without worrying about trash as a backdrop. Local citizens and tourists alike can enjoy a more sustainable and cleaner environment for years on end.
Noticing Ecube Labs' smart city waste management and logistics solution's positive impact on residents, tourists, and the waste division staff, Seoul has decided to expand the deployment area of the Clean CAP. The next pilot is expected to take place in Hongdae, an arts and music district, for additional 100 trash cans.