Waste containers come in all sorts of sizes and shapes, from small cigarette bins to huge open top roll-offs. While every collection company would like to reduce their operational costs by optimizing routes and schedules, not all bins are created equal or have a high potential for cost reduction. As an example, cutting the costs from weekly scheduled household bin collections in densely populated urban areas is far more difficult than optimizing collections for remotely located recycling dumpsters. This is because the far apart dumpsters have usually no urgency for collection until they are completely full, whereas your household bin might be seriously overflowing if the collection company decides to decrease your collection frequency. In order to monitor their remotely located dumpsters, the collection company simply needs to install a small IoT based fill-level sensor in each container and let the data analytics platform inform when the dumpster is about to become full. Besides enabling the collection managers to view the fill-levels in real time, the software also calculates optimized collection routes and estimates the time for next collection, reducing operational costs by up to 50%.
The bins with the highest potential for operational cost reduction with fill-level sensors have several things in common:
The bins are often located far apart and/or in remote locations, such as commercial businesses, industrial complexes, textile warehouses and communal areas. Also, underground dumpsters, septic tanks, oil tanks and water towers are excellent examples, since gaining access to them can be often quite tricky.
The filling patterns of the bins are extremely versatile, meaning that static collection schedules would often result in the collection of nearly empty bins, or the opposite – overflowing bins.
The bins with high potential for operational cost reduction typically hold non-decomposable materials, which allows collections to be postponed until the bins are at least 90% full – even if it takes several weeks or months.
Size also matters: a large container provides greater possibilities for cost reduction, as long as the collected waste is non-decomposable.
The higher the value of the collected material, the more sense it makes to have an extra eye on the bin to ensure that the bin and its contents remain safe.
The high value of the recyclable can stem from several factors, but typically it comes from the material's high secondary use value or the material's high level of sensitiveness. In this article, we describe three types of high-value recyclables that enable collection companies to reduce collection costs dramatically by monitoring their bins remotely with ultrasonic IoT based fill-level sensors. The recyclables discussed in this article are clothing and textiles, electronic waste and secure documents.
Clothing and textile bin monitoring
Clothing and textile recycling bins are a perfect target for reducing collection costs with smart sensors and monitoring platform. The bins are typically located far apart from each other, their filling patterns are versatile and difficult to predict, the containers are often overflowing with clothing donations piled up against them, and also theft is a common problem that reduces profitability dramatically.
Fortunately, most of these problems can be solved with fill-level sensors, which not only measure the volume of the clothes and textile but also prevent the bins from overflowing and enable collection companies to estimate the profitability of each route. The waste bin sensors are equipped with GPS tracking, so their location can be always tracked, even if the whole bin has been moved away. What's more, the sensor will automatically alert the owner if the bin has been suddenly emptied or moved.
Overall, the IoT based fill-level sensors enable clothing and textile collection businesses to reduce their collection costs, increase the volumes and turn more profits.
E-waste bin monitoring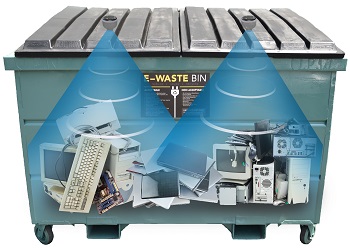 Monitoring of electronic waste (e-waste) is another highly suitable application area for bin fill-level sensors due to the high secondary use value and non-decomposable form of e-waste. Similarly like textile collection bins, the containers for e-waste are usually located far apart in places such as shopping malls and electronics stores, have versatile filling patterns and are easy targets for theft due to the high value of the electronic devices.
Suitable types of e-waste for fill-level monitoring include mobile phones and their accessories, computers, hardware components, batteries, cameras, ink cartridges, and small household appliances such as vacuum cleaners, coffee machines, irons, and toasters.
After attaching an ultrasonic fill-level sensor in an e-waste bin, the collection companies can measure the volume of electronic materials remotely, generate optimized collection routes, receive automatic notifications in the event of theft, and monitor the location of each bin through GPS satellite tracking.
Secure document bin monitoring
The secure document collection is generally a very inefficient industry with expensive and static collection routes. The collectors need to serve their customers with minimal interruption, however, this is not often the case with extremely versatile filling patterns which mean that the collector is never really aware of the bin's fill-level. This results in unnecessary collections and inefficient use of time and money.
Installing smart IoT based fill-level sensors in secure document bins will solve many of the problems: the collections can be done dynamically based on data-driven decisions and route optimization, the bins will never overflow or place the information security to danger, and even in the case of theft, the container can be tracked down quickly. Best of all, the device enables collection companies to reduce costs and make more profit.