With Halloween coming up just around the corner, people are getting excited by the festivities even though they may be carried out a little differently this year because of the global pandemic (please be sure to check the social distancing guidelines of your community!). Whether or not you are able to go trick-or-treating this year, there are still so many ways to celebrate Halloween with loved ones. Regardless of what capacity you choose to spend Halloween, it is always good practice to be mindful of how much waste you are accumulating as you are having a good time.

People on average generate 0.74 kg (~1.6 lbs) of trash a day, with this number possibly getting all the way up to 4.54 kg (~10 lbs). Because Halloween is the time of year when people will break out their extravagant spooky decorations and dress up and possibly create their costume from scratch, you can expect the few days surrounding Halloween to be heavier in waste generation. To intertwine some fun Halloween related facts with this spooky realization, 4.54 kg (~10 lbs) is about how heavy Jack-O-Lantern pumpkin can get and is about 3 times the amount of candy that gets consumed during Halloween by the average American.
Here are some ways that we can be more environmentally conscious as we go about celebrating Halloween:

1. Make your own Halloween costume
Instead of going out to buy a new Halloween costume every year (which is often always packaged in some sort of plastic bag), try coming up with a costume based on past costumes or what you have laying around the house. You will probably end up saving some money and will receive compliments for being crafty and having a unique costume. Bonus points if you are able to come up with a costume that uses recyclable and/or environmentally sustainable materials!
2. Buy candy (in bulk) with recyclable packaging
Although many candies are not individually wrapped in recyclable material (fun fact: Hershey's Kisses wrappers can be recycled), you can find candies that come in one big packaging without individual wrapping (e.g. candy corn). Some recycling centers may accept plastic bags used for packaging a bundle of candy, so do your research to see what eco-friendly disposable methods are available to you! Buying candy in bulk is helpful too!
3. Use eco-friendly bags for treats
Whether it's the goodie bags you are using to give away treats or what you will be using to collect treats, try to find eco-friendly alternatives. For goodie bags, you can use recyclable bags or choose to leave a container. For trick-or-treating, you can use a reusable grocery bag, a pillowcase, or a tote bag that you can customize to match your costume and be able to wear for other days of the year!
4. Reuse Halloween decorations
Households and businesses everywhere love a good excuse to deck out their place in fun decorations. Try to find ways to decorate your place with things that you already have which will most likely save you money and also be better for the environment. As always, stick to recyclable materials and be sure to dispose of any decorations responsibly if you choose not to save to use them again next year.
5. Make the most out of your Jack-o'-Lantern
After you carve a beautiful design on the pumpkin of choice, don't just simply throw away what you have left in the garbage. Save the insides to bake yourself a delicious pumpkin pie and roast the pumpkin seeds with some salt for a yummy snack to munch on! Also don't forget to compost your Jack-o'-Lantern when you no longer want it on display.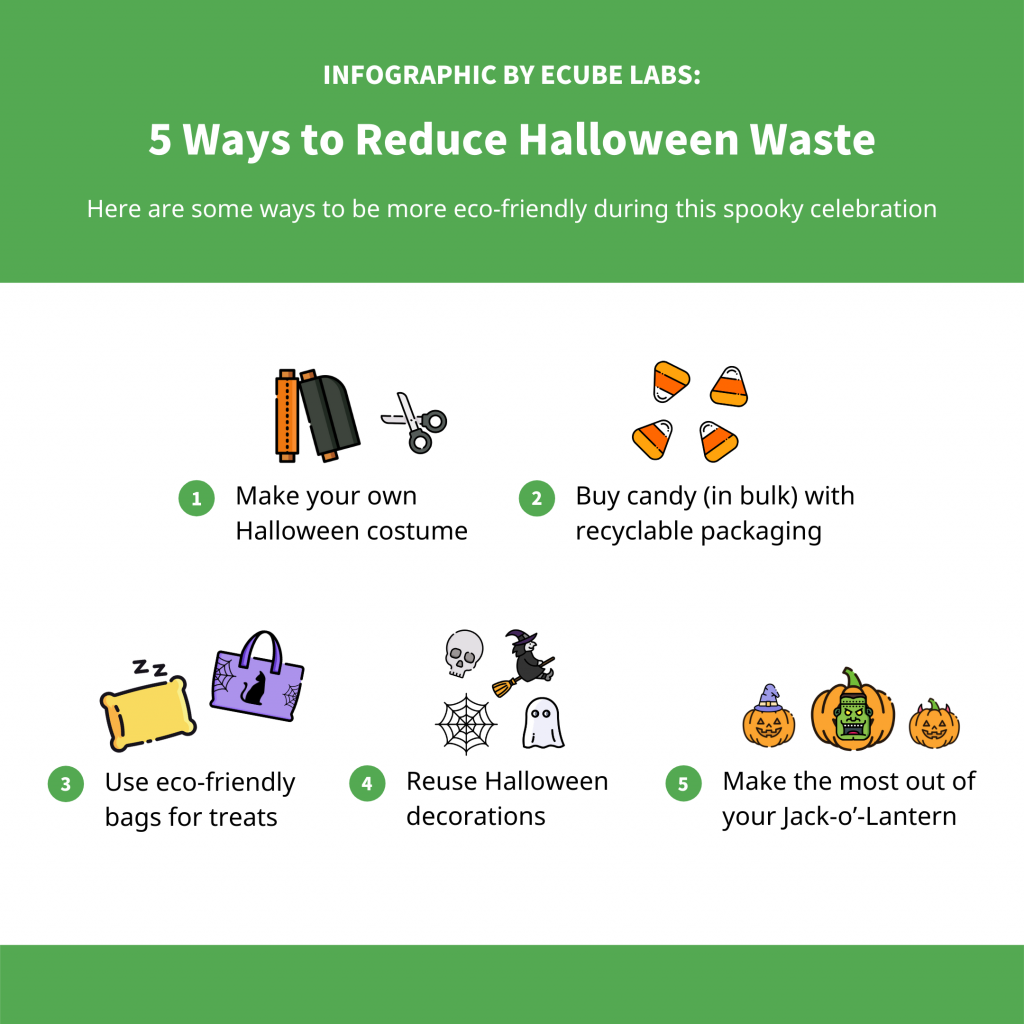 If you are curious about what to do about your wintertime holiday decorations, check out this post.