You're walking on the streets of a busy city and you've just finished your cup of take-out coffee. You want to rid your hand of the trash, so naturally you look for where you can throw it. Although you certainly can and will find street side bins, too often you have to walk awhile to see one, or worse yet, have to keep holding onto it until you've entered a building that has a trash bin.
Why is it so difficult to find bins on the streets of major cities? To give you some exact figures, the city of London (not the whole metropolis, but the Square Mile) has 46 bins in its 2.90 km2 area (or in its 'square mile'). That's about 15 bins per square kilometer. Let's look at some figures over larger areas: the city of Los Angeles, which had over 6000 bins at one point, maintained only about 1000 street bins in an area of 1213.8 km2 (less than 1 bin per square kilometer) in 2015. It was one of Mayor Garcetti's platforms to make that number 5000, a goal towards which the city is making steady progress. The city of Seoul had 6940 bins in an area of 605.21 km2 (just shy of 11 bins per square kilometer) and recently, in November 2019, hosted a discussion and debate session with 100 individuals including citizens, environment and sanitation experts, and city officials on the issue of trash bins. The decision to increase or decrease the number was on the agenda, especially since the initial attempt to reduce trash bins (7607 in 1995 to 3707 in 2007) eventually resulted in the gradual reinstalling of bins over a period of the decade, bringing the numbers back to the original.
In the cases of Los Angeles and Seoul, why were trash bins removed in the first place only to be installed again? While many would welcome installation of bins on the street and do file complaints or requests asking for more bins, others are simultaneously filing complaints or requests asking for the very opposite – removal of existing bins. Perhaps there's a conflict of interests between those who walk around in cities and store owners who do not want to have overflowing trash bins in front of their stores. City management generally doesn't always welcome street bins either; although trash bins consolidate waste into one area, that causes problems such as illegal dumping, unpleasant sight, and vermin.
There's also a security issue. London, Tokyo, and Boston are some of the cities that have unfortunately experienced incidences of terrorism by bombs placed in public trash bins. Cities removed the bins after such tragedies and many have followed suit as a precautionary measure, although whether or not the bombs were placed in the bins is up to debate in some cases.
Prioritizing safety, some big cities decided to sacrifice pedestrians' convenience and reduced the number of street bins. However, over the past several years, some cities have been looking for an alternative solution that can satisfy both parties—pedestrians who want more street bins out of convenience and store owners who want less bins to keep their storefronts clean and neighborhoods safe. In the case of Baltimore, the city was looking for a smart bin that can reduce waste overflow by compacting the waste. Ecube Labs' CleanCUBE was just the right solution for the city.
The solar-powered bin has a patented x-frame drive compactor that compresses waste so it can hold up to 8 times the standard capacity. It also measures fill-level and sends that data to our software platform, where predictive analysis provides optimized collection times so collectors can make sure to collect before there is overflow. The street cleaners do not have to collect the garbage nearly as much as they used to, and yet they are able to eliminate waste overflow. Furthermore, a flap-opening hopper aperture prevents the entry of critters and can be locked remotely, allowing the city to prevent the placement of dangerous materials inside bins during public events. In the end, the city of Baltimore prevented waste overflow and protected the citizens' safety, without having to get rid of street bins.
With the push toward smart city initiatives, there is a vision for cities to be more convenient, clean, and safe. Street bins and public waste management play a crucial role in this vision. We hope to see more efficient waste management systems get implemented, such as smart street bins that made both pedestrians and store owners happy.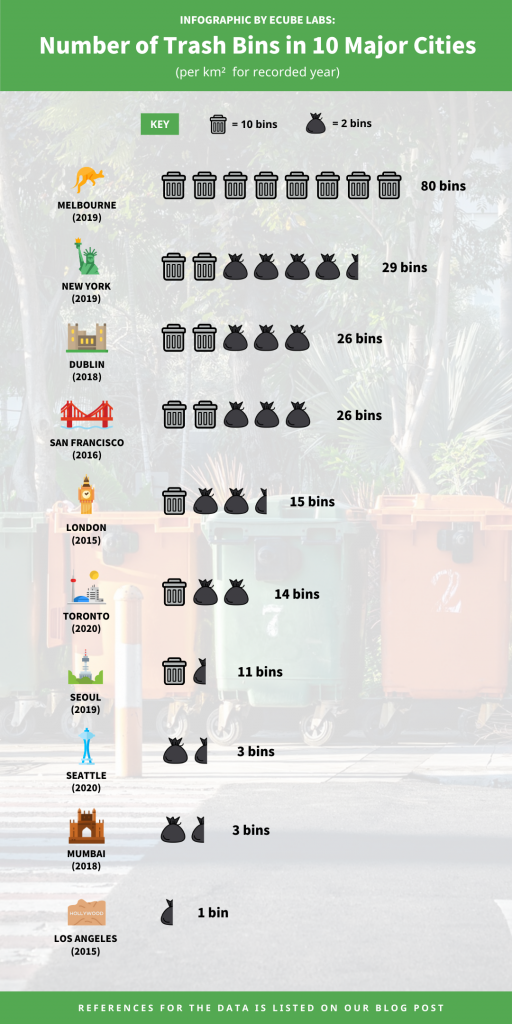 References: